2018 Bordeaux Superieur Guide, Best Wines, Tasting Notes, Buying TipsThe Wine Cellar Insider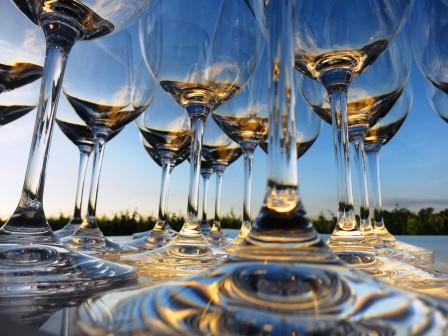 2018 Bordeaux Superieur is a mixed bag. There are numerous delicious, ready to drink, Merlot dominated wines that offer fabulous, stylish, character drinking that won't break the bank. But, due to the massive size of the appellation with its myriad of varying terroirs, there are also light, under ripe, and over-extracted wines as well. You just need to know where to look.
If you are seeking value in red Bordeaux wine, Bordeaux Superieur is an appellation you should take a good look at. Many of these wines offer great drinking and they re perfect to enjoy on release. The following notes focus on the best 2018 Bordeaux Superieur wines we tasted.
The following 2018 Bordeaux Superieur wines were all tasted in my home office non-blind conditions. Other Bordeaux value wines are covered in separate articles.
2018 – Balthus – Deeply colored, polished in texture with layers of lush, ripe, sweet, round, juicy, rich, polished fruits with a lot of oak, licorice on top in the finish. This is already drinking really well. 92 Pts
2018 – Bolaire – Licorice, dark cocoa, cherry, 5 spice, pepper, black raspberry and chocolate come to the surface of the perfume with ease. Medium-bodied, lifted and fruity, with a cool spicy overtone, this is already fun to taste. The wine was made from blending of 50% old vine Petit Verdot and 50% Merlot, which is unique for Bordeaux. 91 Pts
2018 – Bouscat Caduce – This is loaded with ripe, sweet, round, juicy fruits, licorice and spice from the get-go. On the palate the wine really gets going with its blast of sweet fruits and bitter chocolate. It is amazing that you can buy a wine this good for such little money. If you are looking for an early drinking Bordeaux value play, this is it. The wine is an exclusive in the American market for Jeffrey Davies Signature Selections. 90 Pts
2018 – Bouscat Cuvee la Gargone – Round, fleshy and packed with black cherries, espresso, licorice and cocoa, this is lush, rich, ripe and decadently fruity. Plus it drinks well young. The wine is made from blending 60% Merlot, 20% Malbec, 18% Cabernet Franc and 2% Cabernet Franc. 91 Pts
2018 – Bouscat Les Portes de L'Am – Inky dark in color, just from the looks of this you know it's going to have lots to offer, starting with the showy nose and all its espresso bean, licorice, dark, bitter chocolate, plum liqueur and blue fruit notes. Dense, plush opulent layers of sweet, perfectly ripe, black red fruits taste as good as they feel. A blend of 50% Merlot, 25% Malbec and 25% Cabernet Franc is pure hedonism in a glass. This wine is a Jeffrey Davies Signature Selection Exclusive. 93 Pts
2018 – Courteillac – Medium-bodied, fresh, sweet, fruity, forward and focused on its soft red cherry character. This will easy drinking on release. 88 Pts
2018 – Croix Mouton – Medium bodied, forward, easy drinking and already quite charming, the fruit is ripe, sweet and delicious. One of the top value plays in Bordeaux, enjoy this on release. 87 Pts
2018 – Fleur Haut Gaussens – Flowers, hints of cocoa and sweet cherries in a medium-bodied, soft, forward, style with a sweet and tart red cherry finish. Drink this on the young side. 87 Pts
2018 – Grand Village – Lush, silky, sweet, supple-textured, fresh cherries, tobacco leaf and floral notes come alive in the nose. On the palate the wine is elegant, lifted and soft, with layers of sweet red fruits that hit all the right notes. Produced from blending 78% Merlot and 22% Cabernet Franc, this is one of the great value wines you can purchase by the case, if you can find it.. 92 Pts
2018 – Isle Fort – Fresh, bright, soft, sweet cherries and strawberries in a forward, medium-bodied, already accessible style. This is just perfect for early drinking pleasure. 89 Pts
2018 – Jean Faux Sainte-Radegonde – Medium bodied, herbal tinged red berries, soft, approachable, and ready to go with its sweet red fruit character. 88 Pts
2018 – La Fleur-Mongiron – With a nice flowery touch that comes along nicely with all the sweet, cherries and touches of cocoa. Elegant, fresh, soft, silky, ready to drink and it sells for a very, friendly consumer price. What more can you ask for? 90 Pts
2018 – Le Conseiller – Ripe, round, medium-bodied and fruity, with lush, juicy plums, chocolate, licorice and black cherries in a forward, ready to drink style that sells for a song. What more can you ask for in a top Bordeaux value wine? The wine is produced from 100% old vine Merlot. 90 Pts
2018 – Le Pin Beausoleil – Licorice and black cherries come alive in this medium-bodied, soft, forward, round, sweet, silky textured wine. 91 Pts
2018 – Les Perrieres – Les Perrieres replaces the wine formerly known Acte from the Guinaudeau family. Bright, fresh, stony, pure red berry focused, medium-bodied wine with notes of herbs, underbrush, spice, tobacco leaf and kirsch. The zesty finish shows a nice salty touch to the sweet fruit. This little wine can age quite well. 91 Pts
2018 – Madran Cuvée Prestige – Lusciously textured, full-bodied, round and dense, the wine is fruity, More powerful than complex, the wine is a bit hot in the finish, but the fruit is so ripe and sweet, fans of the style of wine are not going to notice. The wine is packaged in an impressive, oversized, massive bottle that weighs as much as some magnums. 89 Pts
2018 – Pey-La-Tour – Medium bodied, sweet, fresh and fruity with herbs, licorice and olive accents and a dusty finish. You can drink this on release, or wait a year or 2 before pulling a cork. 88 Pts
2018 – Pezat – Soft, polished and fruity, the round textured, medium-bodied wine is forward in style, so you get to enjoy all its up-front, glossy, juicy, sweet, red fruits and licorice from the get go. A simple pop and pour is all that's needed here. 90 Pts
2018 – Reignac – Espresso, chocolate covered cherries, plum and smoke fill the nose while layers of plush, ripe, dark red berries and oak hit your palate. You can drink this now, or age it a few years. This could be the best Reignac ever produced! 91 Pts
2018 – Sainte Barbe – Tobacco leaf, herbs, licorice and earthy red fruits are easy to find on the nose and palate of this fresh, dark cherry, round, forward wine. This is showing much better in bottle than in bottle. Savvy value seekers should be all over this. 89 Pts
2018 – Sainte Marie Vieilles Vignes – Medium-bodied, earthy, soft, supple and focused on its fresh, red cherry core of fruits. This is perfect for easy drinking on release and over the next few years. 86 Pts
2018 – Senailhac – I like the truffle accents that accompany all the ripe, sweet, cherries and plums. Medium-bodied, soft and fresh, the wine delivers and elegant, plummy experience that is ready to go. 89 Pts
The post 2018 Bordeaux Superieur Guide, Best Wines, Tasting Notes, Buying Tips appeared first on The Wine Cellar Insider.
Read MoreThe Wine Cellar Insider
(Visited 1 times, 1 visits today)